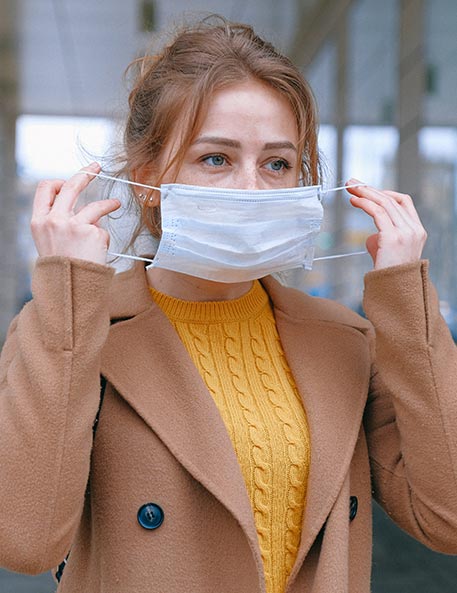 Pharma/Med Device:
2020 Year in Review
In arguably the most challenging period in modern history, the pharmaceutical and medical device industries carried on in the face of disruption to personnel, supply chains, travel, and many more critical business areas due to the Covid-19 pandemic. The answer to the adversity was to push forward and continue serving employees, clients, and patients who depend on their products and services. Despite the mounting challenges, the pharmaceutical and medical device communities delivered much needed solutions, some even thought to be impossible, in 2020.
The onset of the Covid-19 pandemic in early 2020 hit all industries by surprise and brought about the immediate need to assess processes and facilities for safety and continuity in determining how or if business could proceed. The pharmaceutical and medical device industries, essential to public health, were tasked with continuing existing studies and manufacturing while jumping into the fight against the novel virus. During this time of uncertainty and upheaval, these industries were challenged with protecting their own human resources while navigating changes in demand, supply shortages and disruptions, an adapting regulatory environment, and a shift to virtual interactions.
Despite Covid-19's takeover as the leading focus and issue for 2020, progress marched onward and challenges were met with agility, innovation, and perseverance. 2020 witnessed breakthroughs in vaccine developments; fast, reliable, and extraordinarily cheap diagnostic tests; improvements in personal protective equipment (PPE); and better treatment options for challenges pre-dating the onset of the pandemic. While there are far too many new treatments and products that were introduced in 2020 to comprehensively list in this piece, here are some highlights from each of the categories:
Vaccine
Development
In less than a year from the outbreak growing to pandemic status, two (2) Covid-19 vaccines were developed, tested, approved, and ready for distribution in the US with several other vaccine makers in tow with their trials for additional options.
Pfizer/BioNTech mRNA vaccine for prevention of Covid-19 in individuals 16 years of age and older was authorized for emergency use in the US on December 11, 2020
Moderna mRNA vaccine for prevention of Covid-19 in individuals 18 years of age and older was authorized for emergency use in the US on December 18, 2020
Other leading Covid-19 vaccine developers AstraZeneca, Novavax and Johnson & Johnson trials were ongoing in 2020 and into 2021
Fast, Reliable, Cheap
Covid-19 Diagnostic Tests
With the onset of the Covid-19 pandemic came a great need for swift, economical diagnostics to aid in slowing the spread of the virus. Several IVD makers answered the call with tests that can yield answers within minutes and/or differentiate between Covid-19 and the common flu.
BinaxNOW Covid-19 Ag Card rapid antigen test by Abbott Laboratories detects Covid in 15 minutes for about $5/test without specialized lab equipment
BD Veritor™ System, a chromatographic immunoassay for direct and qualitative detection of SARS-CoV-2 antigens, yields results within 15 minutes
SARS-CoV-2 & Influenza A/B test for use on the cobas® Liat® system, a combination coronavirus-flu test, by Roche yields results for single samples within 20 minutes; cobas® SARS-CoV-2 & Influenza A/B test designed to run on its 6800/8800 systems provides 96 results in about 3 hours
Personal Protective
Equipment (PPE)
With skyrocketing demand and critically short supplies, innovations in PPE for front-line workers were desperately needed. Innovations brought forth have included reuse of, repurposing of, and improving upon existing materials.
iMASC (Injection Molded Autoclavable, Scalable, Conformable) system, an N95-quality mask designed by researchers at MIT and Brigham and Women's Hospital, can be sterilized and reused; testing has been completed with various sterilization methods, including high-pressure steam, bleach, and alcohol soaking; designers were improving the model for better fit for different faces shapes and sizes prior to bringing to market as of this writing
Sourcing polyethylene terephthalate (PET) from single-use plastic waste in African landfills to manufacture medical-grade gowns is an idea developed by Katelynn Salmon and Moses Zeidan and submitted to MIT Media Lab's Community Biotechnology Initiative for solicitation of sponsor-donated incentives; waste utilization repurposes the material and can lower the cost of gown-making
Vocera Smartbadge by Vocera Communications, which can be worn under PPE, enables hands-free communication between healthcare team members to minimize contamination risk and preserve valuable PPE that may be in short supply; introduced in 2019, but a critical improvement in the wake of Covid-19

Improved Treatment Options
for Multiple Conditions
Despite the Covid-19 pandemic garnering overwhelming focus, other health conditions persist and cannot be ignored even in the context of the new immediate threat. A diversity of conditions, such as diabetes, sleep apnea, multiple sclerosis, and even many types of cancers were addressed with new or improved options for treatment and management.
Eli Lilly's rapid-acting mealtime insulin Lyumjev injection was approved on June 15, 2020 glycemic control in adults with type 1 and type 2 diabetes
ScanWatch by Withings, a smartwatch early-warning system that can detect sleep apnea, is already approved by the TGA in Australia but is still awaiting FDA approval for launch in the US as of this writing; uses a motion sensor, oxygen sensor, and heart rate monitor to detect disturbances in breathing and oxygen levels
Zeposia by Celgene was approved on March 25, 2020 to treat relapsing forms of multiple sclerosis
Multiple novel drugs for treatment of different cancer types were approved throughout 2020, including:
Tukysa by Seagen was approved on April 17, 2020 to treat advanced unresectable or metastatic HER2-positive breast cancer
Tabrecta by Novartis was approved on May 6, 2020 to treat patients with non small cell lung cancer

Inqovi by Otsuka was approved on July 7, 2020 to treat adult patients with myelodysplastic syndrome
Orgovyx by Myovant Sciences was approved on December 18, 2020 to treat advanced prostate cancer